A Curriculum Vitae (CV) is an overview of a person's work experience, skills, qualifications and abilities.
A well written and professionally presented CV, along with a focused cover letter, gives you a positive introduction to a potential employer.
To obtain an effective CV, you need to provide the consultant with factual information about your:
    Experience
    Skills you will bring to a new job
    Achievements
    Work history (including dates and responsibilities)
    Qualifications (including year and providers)
    Referees (including job title, company of employment and contact details)
We will assist you to develop a personal skills section and include other relevant information.
This material and information will be used to provide you with a Curriculum Vitae which is easy-to-read, grammatically correct and in a layout of your choice.
We can also help you to prepare a job-directed letter of application (cover letter) if required.

Client Comments:
"I sent my CV through to an agency in the UK. He quickly emailed back requesting a telephone call and told me that my CV was very impressive"
E. S., Social Worker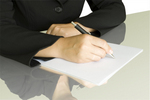 Actually already got a trial day in a small plastering business. Had to be the resume that made the difference 🙂
Mikk K.